Visit the Keukenhof
The Keukenhof opens its doors at the 21 of March 2019 for the seventieth time. Every year the park is redeveloped and becomes a scene of flowering bulbs, flowers and plants. This year's theme is 'Flower Power, the power of flowers'. All with bright colours, hippies, peace & music you will be immersed in the 70ties.
Are you planning on visiting 'the Flower Power' show in Lisse? Choose one of our deals!
Ontvangst met welkomstdrankje
1 or 2 x overnight stay
1 or 2 x extensive breakfast buffet
1 x delicious 3-course dinner at the day
1 x entry ticket Keukenhof
Information pack with various cycling and walking routes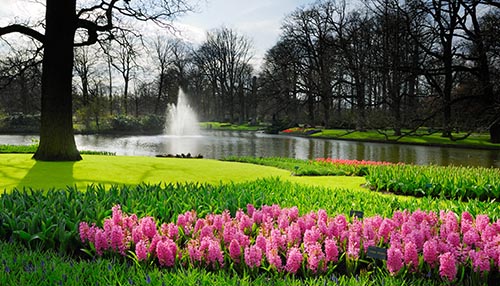 Recommended Keukenhof package
The most famous flowershow in Lisse is situated at Landgoed Keukenhof, which origins from the Golden Age. The estate is over 240 hectares wide and has 15 state monuments. The Keukenhof with its beautiful display of flower bulbs, flowers and plants is the perfect platform to present the netherlands and its affinity with the flower cultivation sector. No fewer than 100 bulb growers are sending in their bulbs and 500 bulb growers are taking part in the different flower shows. Despite the focus on flower bulbs, you can als find wide range of trees, bushes, plants and flower arrangements. The various gardens with their different styles are definitely a sight to behold. Furthermore you can enjoy spectacular flower shows suchs as the orchid show and the lily show.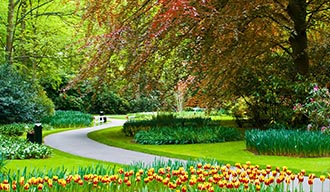 Flower Power
The beautiful theme 'Flower Power, the power of flowers' is a true experience for young and old. The bright colours and hippie theme will be visible troughout the whole design.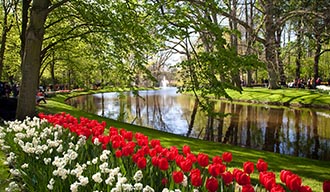 Flower shows
In the various paIvilions different flower and plant shows are taking place.The bright colours, shapes and different types of flower and plants are a sight to behold.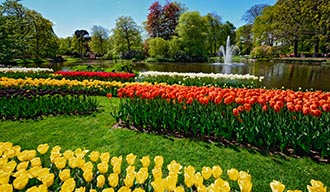 Tulpomania
Naturally the iconic tulip will be present during the different show at the Keukenhof. At Tulpomania you discover more about the history and the cultivation of the tulip.