Visit the Keukenhof in 2023
Keukenhof 2023 will be opening its doors again from Thursday the 23th of March 2022 to Sunday the 14th of May 2023 and is open daily from 8:00 am to 7:30 pm. There are inspirational gardens, events and artworks, as well as activities for children, everything adapted to the annual theme. With 15 kilometers (9.3 miles) of hiking trails, you will find yourself in a true explosion of flowers. Would you like to visit the Keukenhof in combination with an overnight stay? Then take a look at our Keukenhof Package.
Keukenhof Package 2023 - 2 or 3 days
Reception with welcome drink
1 or 2 x overnight stay
1 or 2 x extensive breakfast
1 x delicious 3-course à la carte dinner on the day of arrival*
1 x Keukenhof entry
Free cycling and walking routes
*With the exception of Fletcher Stadshotel Den Haag.
Tip: Buy a parking ticket at the hotel.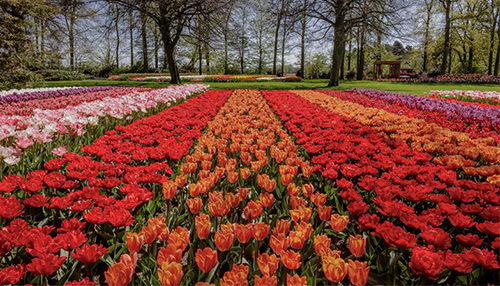 Hotels close to Keukenhof
Keukenhof in Lisse is the most famous and largest flower show in the world. More than 7 million flower bulbs have been planted on this estate, including 800 different tulip species. No less than 100 bulb growers send in their bulbs and 500 bulb growers participate in the various flower shows. In April and May, the tulips, one of the Netherlands' largest export products, are in full bloom again. With its beautiful display of flower bulbs, flowers and plants, Keukenhof is the perfect stage to present the Netherlands and its affinity with the floriculture sector. Despite the focus on flower bulbs, you will also find beautiful trees, shrubs, plants and flower arrangements in Keukenhof. The different gardens with their different styles are absolutely beautiful. You can also enjoy spectacular flower shows such as the orchid show or the lily show.